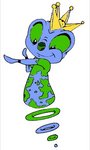 A blue and green globe-like experiment. Designed to be a globe for over 400 different planets. Originally created out of a geography book, a pencil and some Ubernium, he was supposed to not only be a map for Ubernium, but also to be his science project to help with GACC geography homework (Thinktank (313) would do the rest). His one true place is a helper of the Geologist team of Backhoe (040) and Digger (529), helping geologist Dr. Thurston Standish find rare gems and crystals.
Ad blocker interference detected!
Wikia is a free-to-use site that makes money from advertising. We have a modified experience for viewers using ad blockers

Wikia is not accessible if you've made further modifications. Remove the custom ad blocker rule(s) and the page will load as expected.