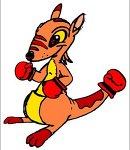 A orange, brown and yellow kangaroo-like experiment with three red boxing gloves (two are on his hands and one is at the end of his tail). Designed to be a pro boxer. He has a Steve Irwin accent and has the same fighting techniques of greats like Arbuckle Dreen. His pod was activated near a construction building, where he punched a girder's, clock out (literally). His one true place is with Spats (397) in the boxing ring. He's voiced by Nigel Marvin. Originally given part to Steve Irwin, but died a day before production of the episode.
Ad blocker interference detected!
Wikia is a free-to-use site that makes money from advertising. We have a modified experience for viewers using ad blockers

Wikia is not accessible if you've made further modifications. Remove the custom ad blocker rule(s) and the page will load as expected.