Carmen


Vital statistics
Title
experiment 123
Gender
female
Race
genetic experiment
Function
designed to make people dance till you drop
Health
normal
Level
.....
Status
good
Location
is in dance competitions on the island.
Physical Appearance
Similar to Angel, she has pink fur with two antenna sticking out the sides of her head, a pair of big blue eyes, and an overall taller figure with all four arms exposed. She wears a form of fruit hat and carries four maracas.
Primary Function
Designed to make people dance until they drop.
Weaknesses
Taking away her maracas
Appearances
Leroy and Stitch (in the stadium after being captured by Leroy)
Speech
One True Place
Trivia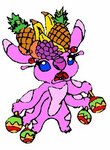 Ad blocker interference detected!
Wikia is a free-to-use site that makes money from advertising. We have a modified experience for viewers using ad blockers

Wikia is not accessible if you've made further modifications. Remove the custom ad blocker rule(s) and the page will load as expected.