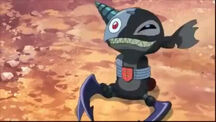 Cyber is the original Experiment 000 that is a villainous, purple version of Stitch with the same abilities, but he is turning into a black, cyborg experiment, part machine part alien. His alien form resembles a cross between some sort of lizard and koala with a cyborg appearance. He's sort of Stitch's main antagonist. He has two cyborg arms, three spider-like legs, and half-helmet with a cyclopsian right eye from some unknown incident. His cyborg arms serve many purposes such as cybernatic wirey rope, laser guns, forked harpoon, and welding tool, and his cyborg eye has zoom functions and improves his aim.
It is unknown if he actually was in the stadium with the rest of the experiments because he wasn't seen anywhere during this event.
Stitch!
He is an evil experiment that is a cyborg version of Stitch. He then attempts to put an early ending to their emerging rivalry by proceeding to kidnap Angel in Season 3.
Ad blocker interference detected!
Wikia is a free-to-use site that makes money from advertising. We have a modified experience for viewers using ad blockers

Wikia is not accessible if you've made further modifications. Remove the custom ad blocker rule(s) and the page will load as expected.