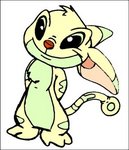 Howcome (003) is a white and grey-green mouse-like experiment with large black eyes, huge ears and a round-tipped tail. Designed to ask the neighbors "why", "how", and like, making them very mad, and answer any sentence said with "How come?" and so cause irritation. His one place is on daytime talk shows. He is voiced by Jay Leno.
Ad blocker interference detected!
Wikia is a free-to-use site that makes money from advertising. We have a modified experience for viewers using ad blockers

Wikia is not accessible if you've made further modifications. Remove the custom ad blocker rule(s) and the page will load as expected.