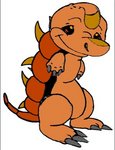 A brown and light orange dinosaur/armadillo-like experiment. Designed to make frozen treats for Jumba. But he was deactivated because he only knew how to create Jumba's least favorite treat, mint chip ice cream. Of course, "Was before aquired taste." as Jumba put it. He was found being chasedby Gantu on a hot July afternoon, not to capture, but to use for himself (625 could survive on ice cream sandwiches he made). Despite this, he was saved by Stitch and was taken to Slushy (523) as his trainee.
Ad blocker interference detected!
Wikia is a free-to-use site that makes money from advertising. We have a modified experience for viewers using ad blockers

Wikia is not accessible if you've made further modifications. Remove the custom ad blocker rule(s) and the page will load as expected.