Poxy


Vital statistics
Title
experiment 222
Gender
male
Race
genetic experiment
Function
designed to introduce the bodies of popular leaders and planetary diseases
Health
normal
Level
.....
Status
good
Location
N/A
Poxy (Experiment 222)
is a small microbe-like experiment who is designed to make people sick by getting inside of them. The symptoms he gives people are purple pimples, swollen rightmost eye, stinky feet, and uncontrollable burping. The symptoms continue while he is inside his victim's body. Lilo and Stitch got Poxy out of Pleakley and gave Poxy and Pleakly's flu to Gantu. He was rescued by Lilo and Stitch in Snafu. Poxy is voiced by Frank Welker.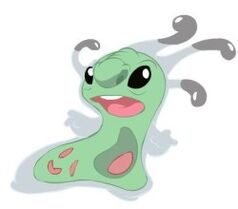 Ad blocker interference detected!
Wikia is a free-to-use site that makes money from advertising. We have a modified experience for viewers using ad blockers

Wikia is not accessible if you've made further modifications. Remove the custom ad blocker rule(s) and the page will load as expected.