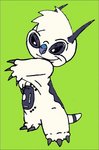 (English) Ruggles is a white and dark gray, plush dog / experiment like a bear with black legs and red. Designed to be a carpet when you walk on it. It is expressed by Jerry Stiller. Retrieved from "
http://liloandstich.wikia.com/wiki/Ruggles
"
ListenRead phonetically
(French) Ruggles est un blanc et gris foncé , chiot en peluche / expérience comme un ours, aux pattes noires et rouges . Conçu pour être un tapis que vous déclenche lorsque vous marchez sur lui. Il est exprimé par Jerry Stiller .
Ad blocker interference detected!
Wikia is a free-to-use site that makes money from advertising. We have a modified experience for viewers using ad blockers

Wikia is not accessible if you've made further modifications. Remove the custom ad blocker rule(s) and the page will load as expected.