Stamen


Vital statistics
Title
experiment 103
Gender
male
Race
genetix experiment
Function
It is designed to attract bees to yourself to prevent pollination of flowers
Health
normal
Level
...
Status
good
Location
N/A
Stamen is a combinatio of a rabbit and a koala. It can attrack bees to itself by the pollen in its ears. He was made to stop bees from pollinating flowers.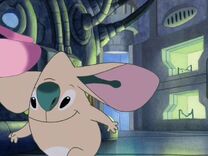 Ad blocker interference detected!
Wikia is a free-to-use site that makes money from advertising. We have a modified experience for viewers using ad blockers

Wikia is not accessible if you've made further modifications. Remove the custom ad blocker rule(s) and the page will load as expected.