Stitch! is a Japanese anime spin-off series that took place years after the events of the original series. It ran from 2008-2011.
Characters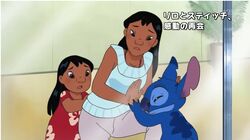 Villains
Voice Actors (English)
Soundtrack
Stitch!: Original Soundtrack is a collection of opening, insert and ending songs based on Stitch! It was released on April 28, 2010. Soundtrack available from Avex Group.
Featuring
"South, Wind & Sun" by Mongol800
"Rodeo Star Mate" by The Pillows
"If We've Met Before, We're Ohana" by Begin
"Stitch is Coming" by bless4
and More
And Also Featuring
"Izayoi Evening" by Begin featuring Hatoma Kanako
"You Are Not Alone" by bless4
Ad blocker interference detected!
Wikia is a free-to-use site that makes money from advertising. We have a modified experience for viewers using ad blockers

Wikia is not accessible if you've made further modifications. Remove the custom ad blocker rule(s) and the page will load as expected.